Winter is coming, the latest promotional experience of Daikin Air Conditioning is warm! From November 28 (Saturday) to November 30 (Monday), go to Daikin 's PROSHOP stores in Heilongjiang, Jilin, Liaoning, Inner Mongolia, not only air-conditioning engineers to provide you with a personalized professional configuration plan, sign on site Purchase a central air conditioner in your home, you can enjoy a more favorable ultra-low installment fee.
For details, please consult the store!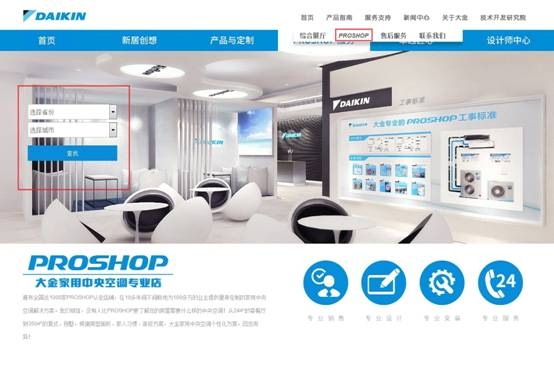 * (Detailed store information can be found in the service support at the top of Daikin's official website)
Link: http: //
Activities
Gift Ceremony from November 10th to 30th
Customers who are invited to the store will receive a beautiful gift worth 50 yuan.
Package Promotion
Sign LP and PMX products during the event, each set of gifts worth 500 yuan;
Signed 3 / 4MX, LMX products during the event, each set of gifts worth 800 yuan.
Three options for signing VRV-P promotional activities during the event
a. Free upgrade of a common air duct machine with a 3D air duct machine;
b. An ordinary duct machine (without pump) is free to upgrade a PM2.5 purification duct machine (or 3D airflow temperature and humidity balance indoor unit)
c. Free upgrade of 3D airflow duct machine. Intelligent perception of 3D airflow temperature and humidity balance air duct machine.
Purchase any product in Daikin's family, you can enjoy ultra-low preferential installment fee

What are you waiting for, go to the Daikin PROSHOP store closest to you for consultation! Experience the quality of Daikin on site, and air-conditioning engineers make professional proposals for you! This winter, Daikin helps you to bring home the air-conditioned "loan home" warmth!
support hotline
This activity is limited to Heilongjiang, Jilin, Liaoning and Inner Mongolia
The above content is for reference only, subject to the publicity of each exhibition hall during the event.
Edit reminder:
For more functions of home central air conditioners, please call Daikin National Sales Advisory Hotline
You can also click on the official website of Daikin Household Central Air Conditioner: http: //
What, the decoration still uses his own money? ! The Qi family is decorated in installments, with an ultra-low annual interest rate of 3.55% and a maximum loan of 1 million. Apply now to enjoy the discount
If you are interested in brand cooperation, content cooperation, and advertising of this website, please send an email to :.
Daikin Air Conditioning News
Brush Cutter Parts,Grass Cutter Parts,Brush Cutter Gearbox,Brush Cutter On Wheels
Shaoxing Haotuo Machinery Co., Ltd. , https://www.haotuochinatools.com